Where is the best cafe shop in Hue Vietnam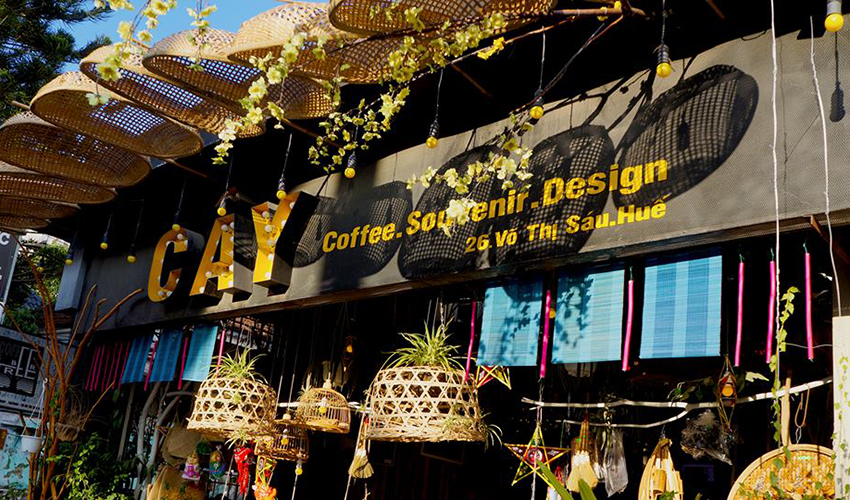 Hue has a plethora of the cafe shop spread around its street, and with so many to choose from.
Where is the best cafe shop in Hue? In this article, it will offer a list of some of our favorites in here that we've tried and tested many times.
1. MUOI CAFE
Don't leave Hue without enjoying a cup of famous Hue salt coffee! Salt Coffee is the unique Vietnamese Coffee in Hue.  You can find salt coffee at most cafes in Hue, but one of the best salt coffee places is at CAFE MUOI. Even, some people in Hue told that CAFE MUOI is home to the original salt coffee.
Salt coffee is to balance between the saltiness and bitterness in the coffee (not too rich, not too salty). The Coffee is brewed in a "phin" – a Vietnamese stainless-steel coffee filter. It serves with a cup of salty cream and ice.
The price is only 15.000 VND (less than 1$). Every day, this coffee shop consumes an average 1000 cups from two stores combined per day.
With a great taste and a cheap price tag, this unique drink is really worth a try!
Address: 10 Nguyen Luong Bang Street or 142 Dang Thai Than street, Hue City.
Opening Time: 9:00 AM – 11:30 AM and 1:30 PM – 9:00 PM.
2. TA CAFE & BAKERY
TA CAFE & BAKERY, which is a lovely coffee shop, set over 2 floors. This cafe and bakery are on the upstairs floor. The ground floor is a gallery of the same name. This coffee shop has a soothing, romantic and nostalgic atmosphere.
Let`s taste a cup of coffee whilst enjoying the calm atmosphere on the balcony. It is very great to sit on the outside deck to watch the people walk by. The coffee was really nice and the desserts were also very nice. Don't miss the banana bread and coconut coffee when you go here. Staff is super friendly and polite.  This is a good cafe for those looking for a quiet place, far from the usual noise of the city center.
Address: 44 Pham Ngu Lao Street, Hue City.
Opening Time: 8:00 AM – 09:00 PM.
3. CAY COFFEE
Continue a list of the best cafe shop in Hue is a lovely cafe shop. CAY CAFE has great decoration. The design of the cafe is really unbelievable for such a small place and well worth visiting just to see it. It has lots of plants, cute recycled furniture.
A really atmospheric cafe with great drinks, great music and friendly staff. The music is not drowned out conversation and was mainly electronic in nature with the odd recognizable pop song. Staff is very friendly and welcoming in a relaxed way. If you like a beer, a chat and some good sounds in the background, this is the best place.
It has lots of different drinks from the menu, all are very nice and very cheap. It's a good rest point for after dinner if you just want to relax and watch the street. If you go here on a Friday night, it will have great live music start before 8.30 PM.
Address: 26 Vo Thi Sau Street, Hue City.
Opening Time: 6:30 AM – 10:00 PM.
4. THE ONE COFFEE & BAKERY
THE ONE COFFEE & BAKERY is located in the heart of Hue, a short walk from the Truong Tien Bridge, making them an easy choice for many office workers and tourists.
Their decor welcomes you in with its refined simplicity. It is the perfect spot to set up your laptop to get work done or just chat away with friends. It a lovely coffee shop, with many kinds of drinks. The highlight is the banana pancake. This staff is very friendly and professional.
Address: 03 Hung Vuong Street, Hue City.
Opening Time: 6:30 AM – 10:30 PM.
5. ROOT CAFE
ROOT CAFE, which is an intimate cafe, is a wonderful retreat for those looking to enjoy their drink of choice in a stylish setting. The decoration is impressive and good-looking with a bicycle theme. This is a warm little cafe where you can lounge with nice drinks.
Friendly, prompt service, clean, and prices are great. Not to be missed.
Address: 43 Ngo Quyen Street, Hue City.
Opening time:  7:00 AM – 10:00 PM